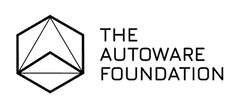 Autoware
Joins SOAFEE SIG
The SOAFEE community are excited to welcome Autoware
as a voting member of the SOAFEE SIG.
Why Autoware
is joining the SOAFEE SIG
The Autoware Foundation is joining SOAFEE with the goal of enabling it's open source software for autonomous driving as one of the first SOAFEE blueprints for the sofware-defined vehicle ecosystem. The Autoware Open AD Kit enables developers to use Autoware in a micro-services architecture on the SOAFEE framework, along with cloud-native tools and CI/CD pipelines supporting shift left development and verification.
About Autoware:
Autoware is the world's first "all-in-one" open-source software for self-driving vehicles hosted under the Autoware Foundation. Autoware is based on ROS 2, with contributions from the Autoware Foundation members and community at large following best-in-class software engineering practices.